Andre Kim, front row center
Definately the icon of Korean fashion!
Focus on Korean Designers
Andre Kim
Andre Kim is the icon of Korean fashion. He was born Kim Bong-nam, in Goyang, Gyeonggi Province in 1935. The son of rural farmers, Kim attended Hanyeong High School and graduated from the Kukje Fashion Design Academy. He has never married but adopted one son.
He entered the fashion world in1962. At the age of 27 he opened "Salon Andre" in Sogong-dong, Central Seoul, becoming Korea's first male fashion designer. In 1966 he was the first Korean to hold a fashion show in Pairs. Since then he has held innumerable fashion shows in places like New York, Washington D.C., Barcelona, Cairo, Sydney and Beijing.
In 1981 Kim was selected to be the Chief Designer for the 1981 Miss Universe Beauty Pageant. In 1988 he designed the uniforms for the Korean athletes for the Seoul Olympics. In 1997 he was presented with South Korea's Presidential Culture and Art Medal for his contributions to the fashion industry. In 2003 he was awarded Italy's Cultural Merit Award and was elected as UNICEF's Goodwill Ambassador.
In February 2006, Kim hosted two elaborate private shows in Hawaii called, "Fashion Fantasia in Hawaii," at the Turtle Bay Resort.
In November 2006 Kim showcased his costumes at the Angkor Wat temple, a UNESCO World Heritage Site, in Siem, Reap, Cambodia. The show was called: "Fashion Fantasia: Angkor Watt."
On February 10, 2007 he presented his menswear collection and was a celebrity judge for "Manhunt International 2007" held at South Korea's Kangwonland International Convention Center. In March Kim appeared in Shanghai, China to hold a fashion show. On May 7, 2007 Kim held a fashion show at the Big Pallet Convention Center in Koriyama, Japan, to mark the year of Korea-Japan friendship, and then arrived in Washington D.C. on June 19 to hold a charity fashion show to benefit UNICEF. In July, Kim held a fashion show in Wuxi, China. In August he staged a show celebrating the opening of a large art hall at Seoul National University. In September, Kim presented his designs modeled by Korean celebrities Kim Rae Won and Kim Tae Hee, at a fashion show in Qindao, China. Also in September, he held a fashion show in Sabuk, South Korea.
STYLE
The designs of Andre Kim are said to combine classical designs with futuristic elements, often resulting in distinctive designs with bold, rich colors and motifs of Asiatic patters, often of large roses, birds, or tree branches. For his fashion shows, Kim favors white-tones settings to bring out the unusual colors of his designs. Kim said: "Fashion should portray grace, intellect, artistic beauty and youthful energy. Not too classic. I don't like 'old.' Even though I was born in 1935, I don't feel my age. I feel like a teenager who is 10 or 15 or 20 years old in a fairy tale, a fantasy, young and brilliant."
Kim also has launched lines in cosmetics, golfing goods, sunglasses and interior design of apartments.
Kim is a bit of an eccentric. One of which is wearing black eye-liner, and all-white outfits, which is said to be his favorite color, often with a brightly colored scarf. He wakes at 5:30 in the morning and reads 17 newspapers, while watching 5 TVs in his apartment.
Chang Kwang-hyo
A world class designer Chang Kwang-hyo emphasized, "In order to attend the Paris Collection, you have to pay huge costs of over 200 million won for clothing and local promotion. The fashion industry has a structure in which a famous brand cannot be created without capital, organization, and marketing." His work has been described as: "Metrosexual," as well as "light-hearted and romantic."
Cho Sung-kyong
Another Korean talent who has conquered Paris is Cho Sung Kyung, who's credited for the costume in the ballroom scene in the popular drama "Lovers in Paris." Cho's Latulle label produces classic romantic designs and is favored by celebrities for red-carpet events. In her chic atelier cum café in Kang Nam, Cho also has displays of her bridal wear from her other label called Swan by Latulle.
Corey Pak (Korean American)
Trained as an industrial designer, the South Korea born Pak, explained that her designs are inspired by everything from Parmalat Milk cartons to building architecture." As she put it: I design simple, functional clothing – stuff you can wear going grocery shopping, or for evening just by changing your shoes.
(Dec. 2, 05) At the 2nd annual: LVHRD (Live Hard) Fashion Duel, she emerged the "Champion of Fashion": "After a nail-biting match, Corey Pak received the nod from the judges, making her this year's LVHRD Champion of Fashion. Stay tuned for more from this designer when her upcoming line, Middleburgh, debuts next fall."
In this contest, each designer gets a model, a basket with raw materials and an hour to design a unique fashion design.
"Team Pak paired the sinister devil horns with equally conical Madonna-esque breasts (overdone and truly disturbing) and an intricately draped and gathered grey bubble skirt. They draped a furry stole around her shoulders, suggesting that the devil really does wear Prada.
In the final five minutes, the frenzy of the crowd, fueled by Red Bull and vodka martinis, was more intense than the finishing touches the designers put on the outfits. The two models, Julia and Angel, glared at each other playfully as the duel wrapped up."
Corey Pak, is the owner of Pak, at 220 Mott Street, New York.
Gee Choon-hee
Well-respected designer Gee Choon-hee sent down models wearing beautiful suits and flirty dresses for her Miss Gee Collection. She impressed onlookers with impeccable suits with feminine touches. A model wore a silk black belted dress with a crisp white coat, which was classic yet modern. With her feminine yet sophisticated clothes, it's no wonder that celebrities love to wear them.
-----
On Saturday, despite expectations riding higher and higher every season, Gee Chun-hee showed that she succeeded in putting together yet another stellar Miss Gee Collection. Appropriate to the warmer seasons she had ready Bermuda shorts that clashed merrily with pretty, silk tops and round-collared coats. The raspberry jersey teamed with a chestnut brown pantsuit was especially a winning combination that working, Korean women of any age could pull off.
Han Seung Soo
Designer Han Seung Soo, a hip-looking man in his 40s who described his aesthetic as "city bohemian," said his style appeals to the artistic types, an exclusive few who want something unique. A former dancer, Han created the costumes in the opera version of the TV drama "Winter Sonata" staged in Japan.
Even for designers like Han who enjoy relative success with their niche markets—Han's pieces cost from $200-$2,500—the popularity of foreign designer labels in Korea remains a burden.
Design by Hwang Jae-bok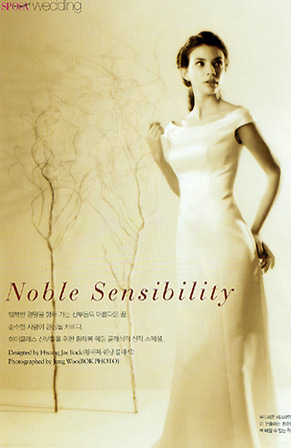 Hwang Jae-bock
http://www.hwangjaebock.com/ Simply scrumptious wedding dresses and suits.
Im Seon-oc
At the Nov. 2004 Spring/Summer Seoul Collection, Im Seon-oc presented a dreamy collection, reminiscent of an oil-painting, inspired by the bright colors used by Marc Chagall. Bird cages and whimsical totes shaped like fish and baguettes were used as accessories, adding a bit of exotic flavor to this stunning collection. In the April Seoul collection 2007 Im Seon-oc displayed splashes of bright colors to contrast with the blacks and grays. A model wore a refreshing combination of an orange jacket with brown skirt and purplish tights, while another model showed off a lime-green mini dress with a black jacket.
Ji Haye - Korean fashion designer in Paris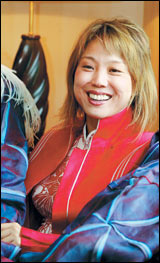 Designer Ji Haye Lighting Up Paris Runways
Ji Haye was not known in Korea. But in Paris, the center of world's fashion, she will be the first Korean to hold two fashion shows in a year as a guest designer at the fashion show Haute Couture. During the show, held July 7-10, she will be exhibiting beside design institutions such as Christain Dior, Chanel, Jean-Paul Gaultier and Hanae Mori.

The Haute Couture section of the Federation Francaise de la Couture is a pinnacle for the world's fashion designers; but it is also the place where most become discouraged, realizing the high standards of international fashion.

In the mid-1980s, Ji Haye left for Japan to study Japanese literature but ended up studying fashion design instead. Later she signed a contract with a Japanese fashion company and worked at its branch office in Paris. After working as a freelancer six years with a famous fashion designer, she learned the works involved in the fashion industry. She receives support from the artist Felix Boukobza, who approved her talents and wanted to become her manager.

Next month's show will be her eighth at Haute Couture, though her three first were not formal.

"Although a Haute Couture show lasts for only 10-15 minutes, famous fashion designers prepare for a whole year with help from the best workmen," Ji Haye said. "But because there was no one to help me, I had to work on my own, sewing one stitch after another. Later my arms were all swollen from needles."

The first show, which she worked on with Boukobza, drew little attention. But the TF1, a French broadcaster, televised it, and afterward, wealthy Middle Eastern people started to make orders. Her second show started to attract attention from fashion industries in Paris. She was able to hold her fourth show as a guest member of Haute Couture.

She adds Korean sensitivity to her clothes. She gets her ideas from designs of monk clothes, and she uses Korean fabrics.

"Many designers apply for the show every year, but if they give themselves even a second to rest, the will fall behind at the Haute Couture," she said. "I always live as if I am standing at a cliff edge."

Ji Jaye will have an earlier show next Monday at Seoul's Shilla Hotel, as part of the French Culture Festival "Rendezvous de Seoul" which will be held June 13-23. She was the only Korean fashion designer to be invited by the French government.
(Kang Kyung-hee, khkang@chosun.com)
Ji Haye Design

Ji Haye Design

Ji Haye Design

Ji Haye Design

Jin Te-ok
Established prestigious fashion brands, Jinteok and Francoise. She's had numerous successful runway shows on international stages, most recently the The Seoul Fashion Artists Association Seoul Collection held at the National Theater of Korea, central Seoul, November 19-22, 2007. Her designs have been described as "chic, fun and free woman." She plays with different fabrics and textures such as wool, silk chiffon, fur, snakeskin, eel skin and ribbons. She also has a daughter in the fashion industry, Ro Song-un.
Jin Te-ok Design

Jo Myung-rye
Paris based designer with clothes ranging from black cashmere skirt suit with an asymmetric hemline to a layered chiffon evening dress. Soft, light fabrics such as jersey, mohair knit and chiffon layered and twisted into a voluminous ribbon. Red, taupe and burnt orange were used as accents against black ivory and brown.
Jung Wook-jun
Jung balances fashion and commerce.
From The Korea Herald, 2003

By Hwang You-mee
In just 10 years, designer Jung Wook-jun launched his own brand, received a film award nomination for creating costumes, has three successful collections under his belt and was named as one of the four most prominent Asian artists by Time Asia. Even though he has worked for established domestic brands including Chiffons, Club Monaco and Nix, it is rare for a thirty-something designer to rise this fast in the fashion scene. His parents were in the children's clothing business, which naturally drew him to fashion. "I didn't dream of being a fashion designer but always was interested in clothing. When I was serving in the army I had time to figure out what I really wanted to make myself and found the answer in fashion, so I changed my major," said Jung. Jung studied visual art, graduated from Esmod Seoul and won the silver prize at the Joongang Design Contest in 1992. After a seven-year stint at various menswear brands, he finally set up his own shop, Lone Costume, in July 1999. Jung's first collection presented in October 2001 took off smoothly with photographer Kim Yong-ho sitting in the front row, and since then he has been favored by both the notoriously fickle media and customers.

He is a designer who also has a keen business sense that many designers lack. For his second collection, he induced Hera for men, one of the leading cosmetics brands to co-promote his show. And for this season, he joined hands with local leather goods companies Soda and Louis Quartoze that manufactures shoes and bags, respectively, designed by Jung. These companies sponsored his collections and their collaborations are going to be sold by them as limited editions as Soda Homme by Lone Costume and Louis Quartoze by Jung Wook-jun. "It is time designers recognized the importance of financial support. It really is challenging to host a show as an individual beacuse it is a cycle of putting money back into the collection. Korean fashion has seen too many designers falling behind due to financial pressure," said Jung. He also believes that the show must go on at all costs. Besides his own brand, Jung is also in charge of domestic menswear brand Carte Homme, which recently underwent a revamping under his direction, and Lone Jung Wook-jun, a mass-friendly merchandise label sold exclusively on LG's home shopping channel. He was the man behind the crisp white navy uniforms of "Phantom" and formfitting school uniforms of "Hwasango (Volcano High)." Recently he dressed Kwon Sang-woo in "My Tutor Friend" and Jang Hyuck in "Please Teach Me English." "After doing the costumes for "Phantom" in 1998, I thought I would never do it again. It was too demanding for so little credit and money," he said laughing. "But when I saw the complete production at the premiere, I was fascinated. To see my pieces of work on the big screen, it is quite a sensation," said Jung.

He is also known as an illustrator whose work has appeared in magazines including Vogue, GQ, Bazaar and Esquire. "I think it is natural thing for a designer to do illustrations. When you design something you first put it into a drawing and that first draft affects the structure of the clothing," he said. His chic, simple, yet luxurious designs are often inspired by black and white photographs as was shown by his latest collection, Anarchic. "I found some pictures of the Woodstock festival when I went to Paris. They inspired an anarchist style that has been reinterpreted into a more modern, tailored silhouette," said Jung. He is a fashion designer yet stated "fashion is more about styling. There are limits on materials and patterns but not on ideas: How to mix these and how to present a whole different image." Suits with colorful lining, pants that fall in straight lines and totes with seemingly careless shapes give off overall sophisticated image as he meticulously intended to. "The most difficult part of being a designer is that I have to fight myself and that I have to present different parts of me each time. Artists also suffer from the agony of creating something, but at least they have the luxury to stick to their own subjective vision. Fashion is more capricious and you cannot be completely oblivious to the trends. This is a job that makes you whimsical and terrible," said Jung.

That is why he tries to tear himself away from this whenever he can afford to. "I love my job but I run away from all this to somewhere quiet. Spending three, four days in nature alone is the happiest time for me. But I know this is because I carved it out of a hectic schedule," he confessed. Besides the serene nature of Korea his favorite place is Paris. "It is true that God created Paris when he was in his best condition. I envy its culture, its architecture and Parisienne as they grew up in it," said Jung. He also is headed to this city "after I find what my clothes are, and then with distinct identity I will have my collections in Paris, hopefully in 2005." (glamazon@heraldm.com) This is the fourth in a 10-part series of interviews with both established and rising stars of the Korean design scene. - Ed
Kang Hee-sook
2006 S/S Seoul Collection on Nov. 16: The last show of the day was that of Kang Hee-sook, who is not only known for her style and skill but her celebrity following as well. Hallyu superstar Lee Young-ae (of "Jewel in the Palace" and "Sympathy for Lady Vengeance"), who made an appearance in a Kang Hee-sook jacket at this year's Cannes, sat in the front row to watch the show.
Kang Hee-sook presented works in taffeta and silk in earthy tones.
Kim Chong-wol
Designer Kim Chong-wol opened the 2006 S/S Seoul Collection on Nov. 16 by sending down her models in stylish, hip everyday wear for the 30 plus woman. Drawing up a line of silk and denim pantsuits in sandy beiges, crimsons and sensual purples with floral appliqués' and semi-precious jewels embellishments, the creative director of the Seoul-based Petillante, seemed to be making clear her statement - it isn't just girls that want to have fun.
Kim Dong-soon
From Korea Times April 12, 07
Another mother-and-daughter pair Kim Dong-soon and Song Ja-in showed their collections back-to-back. Song Ja-in presented an outstanding collection of sophisticated clothes that young women would certainly want to have in their wardrobes. Her theme was ``country classic." Her clothes were a collection of contrasts, with straight trousers and long boyish jackets, but also pretty dresses. (Story was about the 9 day, April 2007 Seoul Fashion collection)
Kim Seo-ryong
Kim Seo-ryong sent out models as musicians of the 1960s and 70s with just a guitar in hand. Fitted jackets were matched with wide-legged pants. Hand-knit cardigans and mufflers in vivid colors added a retrospective touch to the collection.
Lee Jeong-woo: Guardian Angels
Paris, Oct 5, 2001 Inspired by the Guardian Angels who protect us, Korean designer Jeong-woo Lee presented an unusually constructed all-white collection that appeared more Miss Havisham in her tattered and disassembled wedding dress than anything angelical.
Bright eyed, doll-faced models pattered down the runway in whimsical tulle and ruffle-adorned satin cocktail dresses and mini tutu skirts, paired with waiters' jackets or draped and deconstructed tops. Interesting, capricious looks that beg the curious question - now where would I wear that to?
Lee states that the collection is her ideal of an "immaculate femininity, crafted for a woman who controls her body expression." That being the case, sometimes she calls for subtlety. Elegant and highly wearable looks like a clean-lined, wrapped linen dress, fastened chicly by a belt and an impeccably- tailored pantsuit were also presented, and ironically appeared refreshing amongst all the innovation.
Lee Young-hee
A designer who has expressed Korean beauty through natural colors is Lee Young-hee. A designer of traditional hanbok, Lee has featured traditional dyeing methods and the Korean traditional silhouette in the clothes she has shown internationally. She has been participating in the Paris Collections since 1993 and in June she held a fashion show titled "Winds of History" at Carnegie Hall in New York. I participated in the show as a stylist and when I asked Lee why she spent so much energy on dyeing, she said: "Dyeing is a process that contains the soul." The natural colors created from grasses, roots or flowers found in Korean fields and mountains are an expression of the very deep and subtle power that comes from the soul.
Design by Lee Young-hee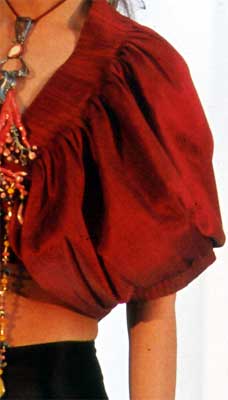 Design by Lie Sang-bong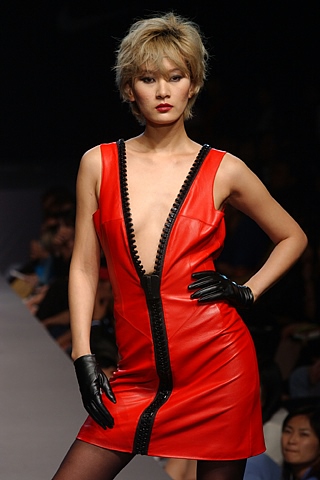 Lie Sang Bong
PARIS, Oct 12, 2006
In a very directional and thematic show, Lie Sang Bong continues to show maturity as a designer every passing season, coming up with unique creations that are refreshingly sweet yet edgy.
Giving a nod to the black & white trend this season, Lie Sang Bong did not go for the traditional solid white or solid black. Instead, the Korean designer created graphical prints of black and white that have been softened with a monochromatic gradient of the two colors.
Black sheered voile was used as an overlay to a white mini skirt. Paired with a handkerchief style cape cum blouse with a shawl neckline and fastened with a ribbon, it was truly modern with an alternative bent.
Off the shoulder balloon minis were given the same treatment of graphics, this time a soft print of the daisy flower in different shades of gray.
And if daywear was beautiful, eveningwear was just lovely as sarong style gowns were given fractal prints of circles that became flowers, or were laser cut at the hem to give it a quaint luxurious look.
One of the mainstays of the Paris season, Lie Sang Bong has been classified as an emerging designer for several seasons already. Pretty soon, like a butterfly coming out of a chrysalis, Lie Sang Bong will be known as one of the forces in high street fashion.
-------------
Lie Sang Bong, who opened his store in the French capital 10 years ago, said his main business remains in Korea, where he has 17 outlets. Lie also has stockists in New York, Moscow and the Middle East.
His Internet site can be found at: http://www.liesangbong.com/index.php
Design by Moon Young-hee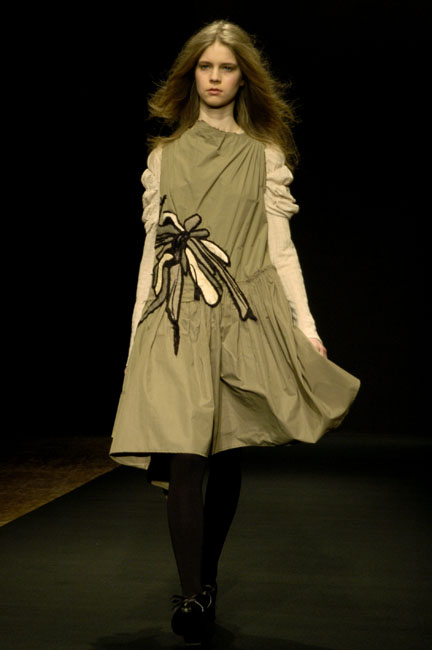 Design by Moon Young-hee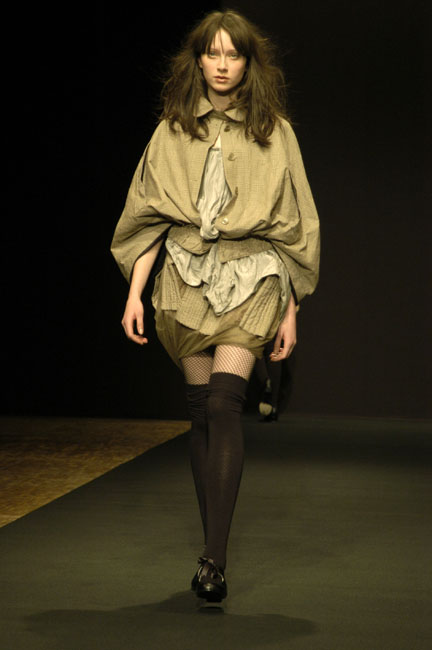 Moon Young-hee
Fashion Windows 11/16/07
Moon Young Hee Spring 2006: Romance In Avant-Garde Style
PARIS, Oct 10, 2005/ FW/ --- With the sound of a locomotive as opening background music, Moon Young Hee set the tone for her collection for the edgy traveling woman who wants to see and be seen.
Over 30 exits that played on volume in luxe fabrics such as lace, Moon Young Hee proposes avant-garde looks for Spring / Summer 2006 with oversized covered elastics on embellishing the waist for coats, layered sleeves on dresses and daintily crocheted tops that almost look like lace.
Reinventing the trench coat, Moon Young Hee followed the classic silhouette but mixed textures, one side using traditional fabric, while the other side made from crocheted yarn, that once again has a lacy quality.
The lacy quality gave the collection a romantic ambiance, yet it is not your typical form. Sticking to her signature experimental style that defies existing trends, Moon Young Hee continues to create unique silhouettes that are timeless.
And that is the reason why her devotees love her creations and Moon Young Hee has a cult following.
Oh Eun-hwan
One of Korea's top designers; though there's almost nothing about him (or her!) on the interenet in English. It appears he (or she) may have a boutique: Oh Eun Hwan Boutique.
Park He-rin
Though one of Korea's top designers there's almost nothing about him (or her!) on the Internet. Some of his work however, was presented at the Hallyu Star Fashion Festival on May 5th 2007.
Park Jong-chul
2006 S/S Seoul Collection on Nov. 16 Park Jong-chul of Sling Stone's traditional dress styles Israel, in a 58 pieces collection made up of body skimming tops and loose fitting lounge pants drawn from a variety of materials including linen, silk, denim and leather is expected to draw large crowds.
Design by Park Youn-soo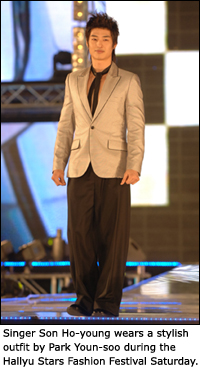 Park Youn-soo
From The Korea Herald, 2003
By Hwang You-mee Wearing a black Harley-Davidson jacket and khaki cargo pants, designer Park Youn-soo sits comfortably on a black leather sofa bedecked with Moroccan beaded cushions and red, heart-shaped throws. Behind him is his treasured Bang & Olufsen audio system fully loaded with six CDs whispering in a hushed tone. Latest issues of Marie Claire and Vogue UK editions are on the tea table next to Le Monde. Opposite the room is a wooden table where colorful blocks, pencils and lined papers are arranged neatly under a bow-like light fixture.

Just one glance around the studio and at Park himself suggests that the president of Park Youn Soo All Style and the head of Seoul Fashion Artist Association, is a man of mixed tastes. And indeed he is. Park has been the maverick of the Korean fashion scene, ever since his jeans-inspired debut collection in the 1980s. Known for his use of vibrant colors and bold tailoring, Park has kept the young and dynamic attitude well into his 50s.

Since 1990, Park has been participating in every SFAA Seoul Collection as well as in a couple of ready-to-wear collections in New York, Paris and Osaka in the 1990s. SFAA's Spring/Summer Collection for 2004 is only a month away, but he does not seem edgy or nervous. "It makes everyone nervous and emotional that you have to reveal yourself in front of other people, but I try to enjoy it as much as possible," said Park. He drinks champagne and wine right until the moment his show starts, to rev up the moment. This might be part of the reason models willingly take the runway for him: Park's show is said to be the most exciting show in the backstage as well as on the runway.

Right now is an intense work period for designers as there is usually only three months between the spring/summer collection season and the fall/winter collections. "This is the most important part of a collection. It is a precious time for me and I greatly enjoy it. I feel rather drained after the actual show is over," confessed Park, his eyes alive and twinkling like those of a child with a new toy.

Last year, Park took the helm of SFAA, the largest designers' association in Korea, representing more than 20 well-established designers as well as relatively young talents. As the seventh president of SFAA, he learned a lot from senior designers: stability and turnover. "But I am someone who is not afraid to bet. I have a tendency of blood type O even though I'm type A," said Park.

"Korean fashion is not mature enough, its history is too short. We need to organize the fashion industry to meet the needs of customers and to globalize it to stand shoulder to shoulder with imported brands. I want to globalize Korean fashion, or SFAA to start with, while I am serving as its president," said Park.

"Korean designers do not lack in artistic sensitivity but there are certain limits in hosting fashion shows in Seoul. Thus we are going to move our base to another city, be it Paris or New York," he said.

He also believes that it is necessary to have a star designer to boost domestic fashion.

"Japan first introduced pieces of their culture such as the tea ceremony and movies like Madame Butterfly before Issey Miyake set foot on the Paris fashion scene. SFAA, as the largest fashion association, should put up a united front and show what Korean culture is," he added.

Park went to Paris in 1980, a trip he received when he won the gold prize at the Joongang Design Contest that year. "I experienced cultural shock there. Before that, Myeong-dong was the Champ-Elysee to me where Lee Sin-woo, Jin Te-ok and Andre Kim had their boutiques. But in Paris I realized that fashion was a cultural industry and I also fell in love with the concept of haute couture," he said. A small, rigorously pin-tucked jacket from the Victorian Era that he found in a flea market still hangs in front of the huge mirror to remind him of that sensation. "Designers should possess the sense and charisma to change themselves and to keep their creative senses alert," said Park.

He is currently renovating the first floor of his five-story building into a boutique for his new namesake range. "Details, color and fabric have been too diluted to respond to the customers' buying pattern. Customers now want more of the character of a designer to be apparent," said Park.

He believes quality goods build customer base as they recognize clothes that make you feel good, that is, clothes created with spirit. He also expects to increase market volume through means of distribution such as the Internet or TV.

Park recently joined with a home shopping channel with fellow SFAA members including Jin Te-ok and Rubina, reportedly making more than a billion won in the first three hours. "It's like flipping the two sides of a coin. As a designer I was worried about damaging the exclusive image, but as a businessman I was rewarded with selling 10,000 pieces in two hours plus free commercials," said Park. Even though the clientele is distinctively different from off-line customers, Park believes this is a good opportunity to turn SFAA into a united brand, which would help establish and promote SFAA overseas.

He counts comfort as the most important element in designing clothes and gets inspiration from movies especially those featuring Audrey Hepburn and Yves Montand- music, and childhood memories as well as vintage designs from other brands such as Prada, Paul Smith and Kenzo. "My father used to scold me for drawing pictures and not behaving like a boy when I was little. When he hit me in the calves I would run to the backyard garden and cry. There were always flowers in our garden, particularly peony in full bloom in May and June. That color is still vivid in my mind," recalled Park.

(glamazon@heraldm.com) This is the first in a 10-part series of interviews with both the established and the rising stars of the Korean design scene. - Ed.
Rubina
Despite a 25 year history of spectacular success in the international fashion design world, Rubina has very little Internet presence. (I did manage to find a partial list of her accomplishments in Korean language.) She started her meteoric career in 1980 at the Chung-ang design contest. Two years later she appears in a Hong Kong Haute Couture show. Also that year she showcased her design skills in Taipei. Jump up to 1987 and she was presenting her fashion line at the Korean Japan Mode show. In 1988 her fashion designs graced the Intercontinental Hotel for an Olympic Night Show followed the next year with an Olympic Press show. Between 1990 and 2004 she developed a SFAA collection;. She is also a member of Fashion Group International.
Shin Jang-kyoung
Shin Jang-kyoung, known for moderate yet feminine designs, will start the fashion week with a show named "Love Poem," influenced by the fabulous fifties and sixties.
Sul Yun-hyung
One of the major handicraft techniques is embroidery. Sul Yun-hyung is the representative designer who applies traditional embroidery techniques to trim and other details of Western style clothing to create a beauty that combines elements of the East and West. She always uses Korean details in her designs. For example, transforming a Korean blanket into a shawl or cloak, or a woman's pendant into a belt. Sul's modern and sophisticated clothes have been well received in the New York Collections.
Woo Young-mi: Delicate Yet Rich In Detail


PARIS, Jun 2, 2006/ FW/ --- For eighteen years in the land of the Morning Calm Woo Young-mi has been imposing her vision of men fashion.
Born in 1959 this Korean designer has never felt like creating clothes for herself nor for her girlfriends. It definitely menswear that she prefers. In 1988 after studying fashion at Seoul University, she founded her company and immediately opened a menswear boutique under her name in the district of Apkujung.
Already the style is delicate. The color range plays on her nuances of mist, pastel and dusts, a welcome change from the eternal navy and black. And she delicately leaves her mark in her choice of materials and cuts along with textures that make you want to caress them.
The garments are streamlined and enriched with details and styled finishes that re-invent the wardrobe for men without scaring them.
Woo Young-mi is a seductress. Little room for fantasy in her collections, she is one of a rare breed of menswear creators who design clothes with respect, precision and determination.
Each of her seasons emerge as a continuing romance with her hero the contemporary man. So delicately that the Woo Young-mi style never fails to seduce.
Young Korean men feel at home with her elegant style mixed with personalized touches like traits of character. The retail stores multiply and the label is now leader in casual wear in the southern peninsula.
In 1997, the brand starts to export to Europe and the United States, there too the success grows rapidly. Step by step. And Woo Young-mi keeps her feet firmly planted on the ground. She just follows her work.
The wardrobe grows to include accessories and leather goods. The company now counts some forty-five employees. In July 2002, she shows for the first time in Paris. Next to the international labels and creators, her silhouettes stand out straight away as a breath of fresh air.
Her style more polished with each season. Guiding men towards a contemporary yet not complex look is definitely her objective. In April 2006, the Korean designer crosses a new milestone by opening her first boutique abroad in Paris.
At 44 rue Vieille du Temple in the Marais district, today there is a genuine Asian talent that coming into bloom.
ALSO
Solid Homme combines aesthetics and function filled her collection with chic pieces that could be worn right off the runways. Knits and jackets were trimmed with satin. Soft, delicate colors such as cream, teal and grey added more subtlety to woo's sophisticated dressing. Her knits, either with a deep V-neck or a slim, built-in scarf are must buys for both men and women.
Korea's Cheil Repeats as Best in Asia-Pacific
Australian agencies swept 11 of 12 Golds awarded in the 1999 Asia-Pacific World PRO of Excellence competition, but it was Korea's Cheil Communications that copped the Best in Region Award - for the second year in a row. Judging took place on June 15 in Sydney.
Cheil's program for Mvio, a new apparel brand, and 11 other campaigns were given the Gold award of excellence by a panel of 10 client-side marketers representing organizations such as Levi Strauss, Coca-Cola, Nestle, Nickelodeon, and the Sydney Olympic Organizing Committee. Twelve promotions were honored with Silver Awards.
The winners were selected from among 52 campaigns, the highest number of Asia-Pacific entries received in the nine years World PROs have been awarded. The judging was hosted by B&T Weekly, the Sydney-based national marketing publication that is the Australian media partner for the World PRO Awards. The day-long process was supervised by promo and World PRO co-sponsor Association of Promotion Marketing Agencies Worldwide (APMA). The judges' scores were tallied by Price Waterhouse.
Cheil Communication's Mvio University Music Contest served to establish the youth-oriented brand among college students and young professionals. (Mvio is a line of fashion coordinates influenced by American and Italian designs and marketed by a sister company of Cheil.) Young contestants were encouraged to write songs and perform them in six competitions at Korean universities. Finalists staged a battle of the bands in Seoul last September, where celebrity judges deliberated the grand-prize and runner-up awards. The competitions housed Mvio fashion shows, where audience members received free T-shirt coupons that drove them to retail. Nationwide television coverage of the finals drew a 35 share and some 75,000 people attended the competitions. Cheil estimated the promotion reached about 70 percent of Mvio's target audience.
Other big winners included Australia's The Marketing Store Worldwide (three Golds) and ad agency EURO RSCG (two Golds, two Silvers). Other multiple award-winners were Kaleidoscope Marketing Communications, Mike Da Silva & Associates, Integrated Options and Solterbeck Jackson Marketing, all of Australia.
All Asia-Pacific Gold Award winners are automatically entered into contention for the World PRO Awards of Excellence, to be awarded in September during promo Expo in Chicago.